Program
Program
Friday

18:00 - 20:00 Arrival & Dinner
20:00 - 21:30 BJJ Training
22:00 - 23:00 Surprise activity

Saturday

8:00 - 9:00 Drill training (BJJ)
9:00 - 11:00 Breakfast
11:00 - 13:00 Nogi Training
13:00 - 15:00 Lunch
15:00 - 17:00 BJJ Training
17:00 - 18:00 Yoga
18:00 - 20:00 Dinner

Sunday

8:00 - 9:00 Drill training (BJJ)
9:00 - 11:00 Breakfast
11:00 - 13:00 BJJ Training
13:00 - 14:00 Lunch & Finish
Trainers
The classes will be taught by Gracie Barra blackbelts and by Marjolein Groenen and Laura Hondorp
Activity
Yoga (with Rolf and Cristel)
Interview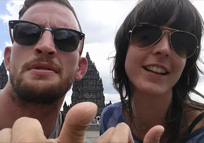 1. Can you please introduce yourself?
We are 'Barry & The Wolf' a small bureau which specializes itself in coaching. In this setting is Rolf (The Wolf) who does the talking with our clients and Cristel (Barry) who does the yoga. Both of us are teachers by profession, but at 'Barry & The Wolf' we can do what we love most: meet wonderfull people, hear their stories and become involved in helping them pursue what they love most for themselves.
2. Can you tell us something about the workshop you're giving?
The workshop will be given by Barry and it will be a YinYoga workshop in which the emphasis lies on long stretching in seated or lying poses. The Wolf will be her lovely assistant and wil help correcting the participants in their poses, if needed. If not, he will be there just to support his wife.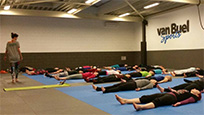 3. What do you like about yoga?
Yoga pushes one to it's limits without being confronted with an actual limit. It is a solitairy exercise in which one can soothe into one's breath and become more aware of what life has to offer. And it can be demanding, because it also can be tough, damn tough!!
Thanks a lot Christel an Rolf, we're really looking forward to your workshop at the Wintercamp.